This article is from our archive. It was published in 2012.
Review - Kevin Bridges: The Story Continues
Published October 2012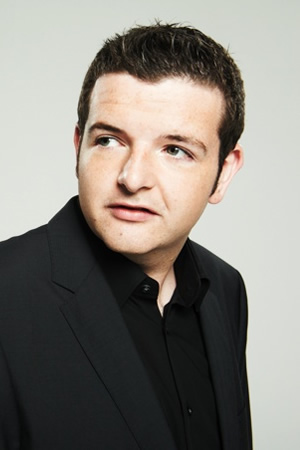 Performing an unprecedented 10 night run at Glasgow's 10,000-seater SECC this autumn, Kevin Bridges' standing in his home city could scarcely be higher. Still only 25, the Scot is so established that t-shirts and mugs are on sale emblazoned with some of his best-known lines.

Before taking the stage, footage of his 2010 tour, The Story So Far ... Live In Glasgow, plays on giant screens, the material's familiarity reinforced after it featured in his BBC One show, Kevin Bridges: What's the Story? Doubtless some of tonight's crowd were present at that recording in this venue. They get to experience the bizarre sensation of their chuckles of recognition being drowned out by their own canned laughter played back at them.

More allusions to "classic" material, with a cartoon Bridges shown scampering to the stage, cement the idea of these being signature jokes. But that's problematic, because some of tonight's routines are pale shadows of these more celebrated predecessors: a lads' holiday interrupted by terrorists on a plane; the deranged "screwball" he encounters on a bus.

Inbetween, there are some well-delivered, fresh gags. And to be fair, he foregrounds the return to past subjects, acknowledging that Glasgow has surrendered its 'Murder Capital of Europe' title to Limerick. He tempers audience enthusiasm for his mention of an "empty" (house), where he and his teenage mates sat appreciating the cinematography of Anal Pandemonium, with a needless, hasty clarification of "not an empty per se". Tellingly, his closing gag before an uncertain encore is a brilliantly absurd characterisation of a priest - a non-sequitur that he's been deploying for a good few years in his club sets.

It's admirable that Bridges still takes public transport. And one of his strongest suits remains his evocation of school days and adolescence, maintaining with gurning sincerity that he's going to keep belming at people till he's 75. Nevertheless, it feels like he's straining to reach the same intuitive levels of hard-edged, empathetic observational humour that got him his TV show in the first place.

He affirms his everyman credentials from the start, with a lovely, self-distancing quip about Jimmy Carr's tax arrangements and later, a compelling insight into his unlikely future as a chatshow host, "pretending tae gi' a fuck" about celebrity guests. He savagely mocks the government's workfare scheme and David Cameron. And he patriotically supports Scottish Independence because fuck it, it'll be a laugh.

Throughout, he's a compelling storyteller, his delivery punctuated with aggressive turns of phrase and lacerating sarcasm. His casual, conversational ease reassures and there are few significant lulls.

Yet for all his attuned insight into class pretension and embarrassment, it takes Bridges actually belting out a tune to rescue a meandering section on holiday karaoke. He remains as straightforwardly charismatic as ever but on this evidence, there's little to otherwise set him apart. Nothing you'd want to put on a t-shirt anyway.
Jay Richardson has written about comedy for the Guardian, Sunday Times, Channel 4, Scotsman, Herald, Scotland on Sunday, Sunday Herald, Irish Times, Metro, Big Issue, Chortle, Punchline and The List. Happiest attending comedy festivals, he can be found as @jayirichardson on Twitter.