This article is from our archive. It was published in 2012.
Photo exhibition on display in Manchester
Published September 2012
This autumn The Lowry venue in Salford (Manchester) is aiming to put smiles on faces, as it showcases a photography exhibition from the National Portrait Gallery featuring famous comedians.

Over 50 iconic images of some of Britain's best loved comic entertainers of the last seventy years arrives at The Lowry on 29th September 2012, and will remain on show until 13th January 2013.

The free exhibition features pictures of nearly seven decades of comedic talent and includes a specially commissioned video introduction from Paul Merton. Comedians: From the 1940s to Now is described as "putting the spotlight on those men and women who over the years have bought laughter into our lives."

Victoria Wood (pictured), Jack Dee, Frank Skinner, Julian Clary, Jenny Eclair, Bill Bailey and Tommy Cooper are amongst the famous faces on display.

The venue says: "From the tongue in cheek sauciness of Frankie Howerd to the character creations of Lenny Henry, the caustic humour of Jo Brand to the cerebral wit of Stephen Fry, this collection of intimate portraits captures the public and private faces of these remarkable performers."

Charting 70 years of British Comedy, the earliest portraits in the display are of comedians who began their careers while serving in the armed forces during the Second World War, including Kenneth Horne and Eric Sykes. From the 1950s a new captive audience was created thanks to enduring radio shows such as Hancock's Half Hour starring Tony Hancock and Sid James, and The Goon Show with Spike Milligan, as the gallery reflects. Comedians: From the 1940s to Now also goes on to highlight the performers from the satirical Establishment Club in the 1960s including John Fortune, Eleanor Bron, John Bird and Jeremy Geidt. Those who have forged film careers, such as Simon Pegg, Russell Brand and Ricky Gervais, form part of the most recent selection of images.

The gallery features work by celebrated photographers such as Cecil Beaton and Annie Leibovitz alongside portraits by less well-known photographers, such as Bob Collins who documented the rise of radio and television performers in the 1950s. Also on display will be portraits by Lewis Morley, who became the 'official' photographer of the satire boom of the 1960s, plus there's portraits of alternative comedians from the 1990s, taken for Trevor Leighton's The Jokers, which was a photographic survey of British comedians in 1999.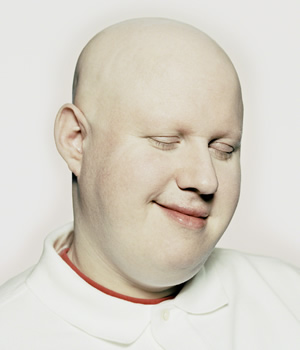 Comedians: From the 1940s to Now also includes portraits acquired by the National Portrait Gallery in the last year. These include Jimmy Carr and Mitchell & Webb by Barry Marsden; Omid Djalili by Karen Robinson; Matt Lucas by Nadav Kander (pictured); and Johnny Vegas by Karl J. Kaul.

A unique addition at The Lowry will be an additional tribute to Salford comedian Al Read. Born in Broughton, Al Read and made his radio debut on the BBC in 1950 and his subsequent broadcasts attracted up to 35 million listeners a week. His catchphrases - including "You'll be lucky, I say you'll be lucky!" - were soon being repeated in homes across the country.

The Lowry curator Emily Tan says: "We're delighted to continue our relationship with the National Portrait Gallery by presenting another one of their exciting exhibitions. Britain is known for its sense of humour throughout the world, and comedy is a valued part of British culture. This exhibition sees a variety of irrepressible entertainers captured by a wealth of national and international photographic talent." Steve Cowton, the Senior Theatres Programmer, adds: "We consistently present the country's finest comedians on our stages, bringing big names to a North West audience, so this is an ideal opportunity to celebrate and embrace comedy in our galleries too."

The galleries will be open every day 11am - 5pm (10am - 5pm on Saturdays) from 29th September 2012 to 13th January 2013 at The Lowry (Pier 8, Salford Quays, Manchester). Admission is free - you just need to go to the Galleries Desk when you arrive to pick up a ticket.

The Lowry is also a stand-up comedy venue. Comedians performing at the venue this autumn include Marcus Brigstocke, Stewart Francis, Pappy's and Josh Widdicombe. For more details on the live shows visit www.thelowry.com/comedy