This article is from our archive. It was published in 2012.
Susan Calman interview
Published October 2012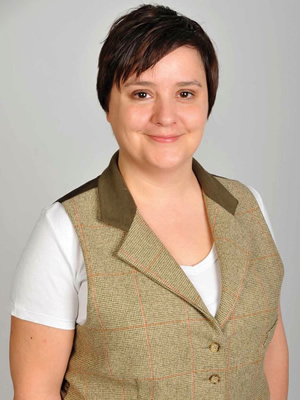 After a busy summer that saw her get married and wow Edinburgh audiences, and just ahead of a string of new comedy projects, Susan Calman is trying to sort out her house. She kindly took time out from "trying to stop the cats helping the repair men" to talk to The British Comedy Guide.

Hi Susan. Sorry to start the interview off on a low note, but could we ask you to recount your first Edinburgh Festival?

The very first year I did the Fringe, myself and some other Scottish comics got this idea for a show that was going to be amazing. We signed up to do it at The Cafe Royal, which is off Princes Street, and were assured this buzzing tremendous venue. They gave us a late night slot and I paid the money for it all - about seven and a half thousand pounds, or whatever it cost at the time... and it was an utter disaster!

Nobody came. Nobody wanted to come to the venue. We were flyering out on the Royal Mile at half eleven at night in the pissing rain to drunk people who didn't want to speak to us. I've never been as miserable in my entire life as I was that first year at the Fringe. It was horrific.

The reason we asked you to recount that (sorry) is we're really interested to know why you didn't quit at that point? Most people would have given up then?

Well, the thing was, when I gave up on my job as a lawyer I was well aware that a lot of people thought I was mad, stupid, self-indulgent... do you know what I mean? So I was sooo determined that they wouldn't be right.

I was stubborn. I thought, I'm not going to go back with my tail between my legs to my old law firm and say 'actually you were right it was a stupid thing to do'; that's why I kept doing it, I didn't want the people who said 'that's not something that you can do' to be correct about it. Comedy is something I've wanted to do for my whole life, for as far as I can remember...

It seems a strong drive is what defines many successful comedians.

When people ask 'how do I succeed in stand-up?', a lot of it is about keeping going, and not to listen to other people. Other people have a lot of agendas, so when someone gives you advice you also have to think 'why are they telling me to do this?'. You've just got to go with your absolute gut instincts, have hugely thick skin, and just keep going no matter how horrific it is. I always know nothing will ever be as bad as that first year at the Fringe!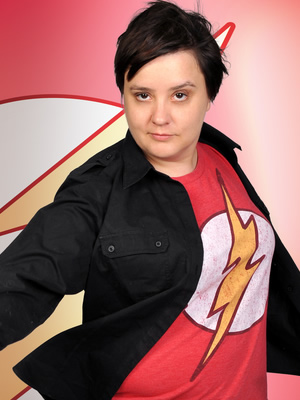 The 2012 Edinburgh festival was a very successful one for you, but perhaps with just as much stress as the early ones, we guess?

This year the show was about something that I thought was quite important - equality and the right for gay people to get married - and so, if you do a show that's about something, as opposed to a show that's not about anything and is just kind of a humorous funny story, there's a different pressure, because then you have people confronting you about what you're saying, so it's not just 'is it funny?', but it's whether or not people agree with what you are saying, which is a totally different kettle of fish.

So, in between trying to do a radio show in the morning [MacAulay And Co], the Amnesty podcast then the Guardian blog, and the show, I had the pressure of people saying 'politically, morally, I don't agree with what you're saying'...

So some people are still not on board with the idea that gay marriage is fine?

My friend, a comic called Martin Mor, overheard a man in a cafe describing my show as 'a Nazi rally for gay marriage' - it's my favourite ever review for the show! Ha ha. But that's the kind of thing some people were saying about it. I got hate mail and people would send me tweets and emails saying that they disagreed. I ought to stress not a lot - I got some lovely people saying I changed their mind about the topic too.

Society's attitude toward homosexuality seems to be changing at a rapid pace now though. Do you think in five years time that it'll no longer be an issue?

No. You just have to look at what happened the other week with Nick Griffin and the BNP tweet and look at the comments section of various newspapers who wrote about it to understand that there are still people who have a huge issue with it.

In the same way that racism will never go away, homophobia will never go away. We just have to make it slightly better and easier for people to understand it's not a frightening concept for two people to marry each other. When it comes to an issue like 'why shouldn't I be allowed to stay in a bed and breakfast with my wife', you just have to read the stuff out and say, 'come on, look'.

Hopefully it'll get better, but I still think there's a lot of work to do.

It's probably worth emphasising your show isn't just political, it's very funny too. Are you looking forward to bringing it to London audiences in November when you play the Soho Theatre?

Definitely. I've done various Radio 4 stuff, and I've done bits and pieces on the telly, but a lot of people probably haven't seen me do live stand-up yet. One of the things I'm looking forward to is for people who've heard me on The News Quiz or seen me on Have I Got News For You coming along and seeing what an hour of the show is about.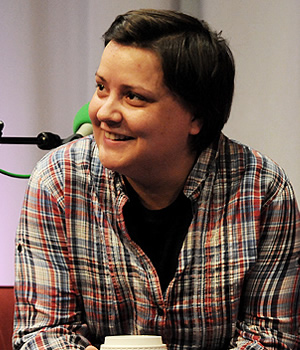 I think the Soho Theatre is such a beautiful and supportive place for comedy now, it's got some really fantastic acts on, so I'm really looking forward to doing a full-length show in London rather than just a 10 minute spot here, or a 20 spot there. I think it's going to be beautiful to just be able to let loose on the people of London for two weeks!

Talking of The News Quiz, you're a regular guest on that now. Has it changed your career or the type of people coming to see you live?

The News Quiz has absolutely changed my life and comedy career, because I've met people like Sandi Toksvig who has been a tremendous mentor to me for the past couple of years. Plus it's prepared me beautifully so that when I've done QI or HIGNFY I've no fear, because I've already done The News Quiz. It was terrifying when I first did it, but it's helped me to become a better comic I think.

News Quiz fans are beautiful, they pay such attention to it, and they come and see my shows and they listen and, I'm not saying in any way that they're more intelligent than your average comedy crowd, but they're perhaps slightly more politically aware so I can mention a cabinet minister and they're perhaps more tuned into politics than an average Friday or Saturday night crowd.

Interesting to hear you say that TV shows don't instil fear in you. We've heard in the past from long-established TV panel show stars who still say they get a sick feeling before those shows...

The way I always see it is - it's probably the wrong way, and my agent would probably kill me for saying this - but if I'm on a television programme and I'm going to 'go down', I'm going in a blaze of glory.

I always figured if someone is watching and going 'oh, there was a woman on and she smiled a lot'... I'm not going to be that woman, because I'll try and do something to make sure I'm not that woman. So the summary of this is: 'If it's going badly, Calman goes down with a fight'.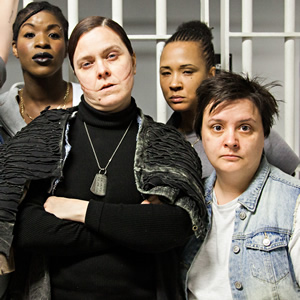 Ha ha. Changing the subject, acting seems something you're quite keen on?

Absolutely. I adore doing acting - you turn up and you do someone else's lines and there's less pressure. Dead Boss (pictured) was extraordinary, getting to work with Jennifer Saunders, Caroline Quentin and Sharon Horgan was just... you can imagine my teenage self, just high fiving myself standing next to all these wonderful actresses.

I'd love to do more acting, so I keep writing scripts with me in it... so I hope to be able to do something soon. I've got four scripts in development with various other people at the moment.

You've also got some more stand-up projects in the pipeline?

I'm doing a taster for the BBC for a stand-up show in November at the Soho Theatre with Sandi Toksvig. It's not a pilot, it's a taster for the two of us to do a stand-up show together, which I hope the BBC will think is good and maybe give us a series of.

Plus Radio 4 have just commissioned a four part series called Calman Is Convicted in which I'll explore stories from my life. The series will be recorded later this year and broadcast in 2013.

Fantastic news. Congratulations. It'd be fair to say you're pretty busy then!

There's a lot of stuff going on but, yeah, I just need to keep working - that's key. At some point over Christmas I might take a couple of days off, but that's probably all I need. My wife hates me for that!

Thanks Susan. All the best with the Soho run and preparing for the radio series.

Susan Calman will perform 'This Lady's Not For Turning Either' from the 13th to 24th November at the Soho Theatre. Details & Tickets

To find out more about Susan and keep up-to-date with what she's up to visit www.susancalman.com or follow her on Twitter: @SusanCalman