This article is from our archive. It was published in 2012.
Shappi Khorsandi interview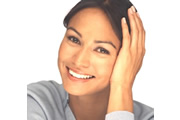 Jude Evans
October 2012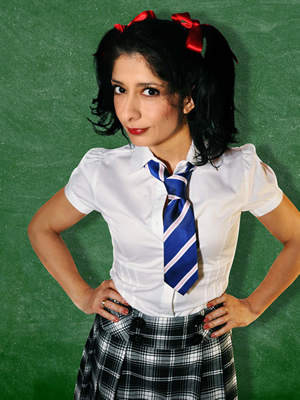 Shappi Khorsandi has had a cringey life that invites comedy material often. She once took her family to Paris for her brother's 40th birthday, making a big song and dance about how it was her treat... then discovered upon arrival that she had accidentally booked a place in the red-light district.

Talking with Shappi is both effortless and enjoyable; she breezes through the interview with comedic skill and timing. I certainly had good fun talking with the star of stand-up show Dirty Looks and Hopscotch. Here, she tells me how the idea for this theme came about...

"The show was inspired by a guy that I dated who was a singer in a band. I like to refer to him as 'The Rock Star'. He's a quite well known person." "It's not Limahl from Kajagoogoo is it?", I joke... "Actually I've been thinking of starting rumours that it's Mick Jagger. If you could start that rumour off for me that'll be great", Shappi replies. Consider it done.

She continues: "The Rock Star was really into stand-up and porn when I was seeing him. He came on tour with me, attending around 17 of my shows. He loved the idea of me writing a comedy show for him, all about him!

"The humour of the show is not so much about this singer, but about me and why at this stage in my life I had allowed myself to fall for a man that you would normally only read about in Take A Break magazine. I somehow got sucked into this murky world that made 50 Shades of Grey look like a colouring book; hence the school uniform theme, because that was a fetish of his... He was an extraordinarily sordid man."

Does Shappi have any rituals, or some sort of process before a performance? "I have this really irrational fear of losing bladder control. I just get really scared that I'll need the loo so badly that I'll wet myself half-way through the act. I always seem to have to want a pee the second before I go on stage", she laughs.

"I also have this weird OCD thing of blinking a lot; I've had this since I was a teenager. I just have to blink myself into oblivion before I perform... People often ask whether I wear contact lenses, as I'll always be twitching so much."

Do you read a lot of your press and how does this effect you? "No, no, I don't read anything ever! I've read my book reviews though and articles... Well, at the beginning I did read a lot of my press reviews. Then my Dad said to me: 'If you get a bad review ignore it. If you get a good review ignore it.' That's what I do these days...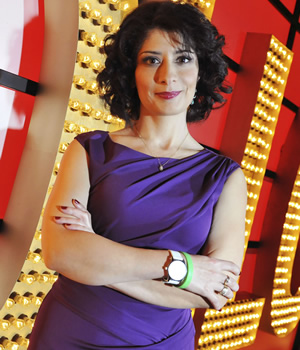 "With stand-up I'm lucky, as the audience will tell me in that moment whether it's working or not. Also structurally and ethically, I've got other comics and creative types who come and watch me; they can be really honest with me about it and that's what I need."

Shappi jokes about wanting to be a doctor, but that her parents pushed her into comedy - Shappi's father and brother are also funny people. Was becoming a doctor or taking up any other 'serious' profession an option for her?

"No, I was on my yellow brick road and I wasn't going to get off, ever. It didn't make it easier though... I've just always known that I've wanted to perform. I did do other jobs to pay the rent, but I never got into any other type of work that required any kind of responsibility, or money frankly. I think staying poor is very important for a career in the arts." Shappi jokingly adds, "Besides, I can't fill in forms, I can't operate fax machines - a photocopier made me cry once!

"I just couldn't get up in the morning, unless it's for something I want to do with my whole heart. I think you're very lucky in life if you know what you want to do from an early age..."

How's life in general treating her at the moment then? "All's good now, but it was hectic for a couple of years. I became a single Mum and had to learn how to juggle with one hand. It was really hard to give my career my all, as I didn't want to miss out on seeing my boy. I remember how hard it was at the start when he was a baby. I thought often about wanting to get down on my knees and praise all single parents. I felt so lucky to not be in that position ... then 2 years later I was.

"I'm writing a new book though now; I had to wait for my boy to go back to school to get the ball rolling on that one. I think my son and I have finally figured out a way to juggle work and have fun... I'm also thinking of a DVD for next year and all the usual stuff us comics get up to..."

What else can we look forward to TV and stage wise? "QI will be airing soon... I'm also writing for the Soho 6 [writing group] - I'm writing a comedy play which is very exciting for me. Lots of writing performing to come and thinking about a new show for next year... My brother will be supporting me on tour next year, which is always great fun. Working hard really and finally having fun..."

You can see 'Dirty Looks and Hopscotch' at the Soho Theatre on Tuesday 16th October to Saturday 3rd November 2012. Info & Tickets