Circuit Training 12: The Mac Factor
Published January 2010
Where will it all end? I read on this very site last week that the most-watched comedy on the BBC iPlayer in 2009, and the third most-watched iPlayer show overall, was none other than the first edition of Michael McIntyre's Comedy Roadshow. It topped Gavin & Stacey, Doctor Who and even that legendary panel show farce, Nick Griffin on Question Time, and was beaten only by two episodes of Top Gear. If Clarkson didn't exist, McIntyre would be king.

It was an amazing year for the comic, of course, with a sudden surge in the latter months as the publicity campaign for his latest DVD cranked into gear and his curiously hamster-like visage was suddenly splashed all over the Sunday supplements too. Hence the backlash began in earnest, mainly via (a) edgier comedians annoyed by his lack of envelope-pushing (b) less successful comedians annoyed at how often he's on telly (c) both.

McIntyre's success has certainly come as a surprise, particularly to those of us who'd kept close tabs on him in the pre-fame years. I personally try to refrain from the current Mac-baiting as he once did me a favour by chirpily agreeing to an interview about five minutes before our paper went to press, the first of several enjoyable discussions over the next few years.

I've just had a delve through those lengthy transcriptions to see if there are any obvious clues that he'd wind up as the biggest comic in the country a few years later. In fact, if you look at the comedy world as a survival-of-the-fittest dog-eat-dogfight, it's amazing that this rather sensitive chap managed to make it big at all. That first chat was in advance of a little Edinburgh preview in Halifax, and led to a full and frank account of his previous experiences at the Fringe.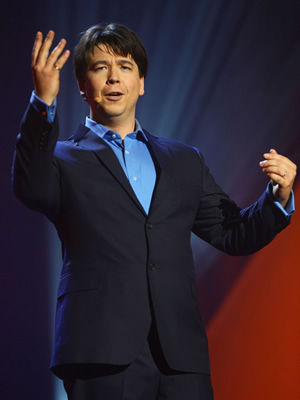 "The last two times I've cried in my life have been at Edinburgh," admitted the stand-up, who did actually receive a Best Newcomer nomination in 2003. "I think they came on some good nights, where I was being spontaneous because I had no material. But really I was overtired, confused, panicked, and cried in Starbucks."

Our next encounter was shortly after both Edinburgh and his first big TV appearance, as a guest on the Charlotte Church show. Most comics are pretty wasted after a month in Scotland, but McIntyre had kept to a strict regime of "lots of sleep during the day, lots of gigs at night," and hit the ground running. "I got back on the Tuesday then I did Charlotte Church on the Wednesday, so I was straight on telly. Two million people watched that. In fact two million people watched it and said 'who the fuck is that bloke?' They did, I've seen the [online] forums."

By the time of interview three, in January 2007, he'd just been unexpectedly invited to appear at the Royal Variety Performance, and "met Prince Charles," he recalled. "We had a chat, he said he was amused by it. I saw him cracking up actually - he was fucking loving it."

A line that was almost certainly omitted from the eventual piece, sadly. McIntyre did go on to muse, mock-seriously, that "everything's rolling, everything's building" due to the extra recognition an RVP appearance brings. "I want to think of it like I'm moving through the leagues, like I'm Wimbledon [Football Club] in the eighties. Although that depresses me because it means that in ten years time I'll have to move to Milton Keynes. Lets just scrap the whole Wimbledon analogy..."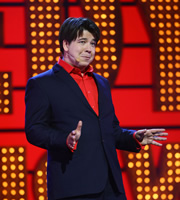 Things moved on apace and by the time of our next natter a few months later he was a fully-fledged TV face, if not yet a household name. The burgeoning profile was still proving rather novel. "After something's on you always get a few days of being famous," chuckled the comic, "but then you just become this weird bloke that people sort of recognise but have no idea where from. You cant just sit there reading out your credits. They come up to me and say 'who are you?' and I say 'I'm working on it, you'll know soon enough.'"

Indeed, and the big McIntyre vehicle was already in the works, it seems. What was the next step, wondered yours truly? "In two years time, I would like to have had a very successful television series," he mused. So would that be BBC4 or BBC3? Perhaps even BBC2, with a bit of luck? "All these negotiations are ongoing," he concluded, "so I can't show any favouritism."

To borrow a word from another surprisingly successful chap who suffered a bit of a backlash, then, it seems we misunderestimated you, Mr McIntyre.
Si Hawkins has been interviewing comedians since Russell Brand was a little-known MTV presenter. He also edits the front end of a popular music magazine and pontificates about football for anyone who'll put up with him. He's @SiHawkins on Twitter.