Rubberbandits, Stuart Goldsmith & Trevor Noah win Malcolm Hardee Awards
Published 25th August 2012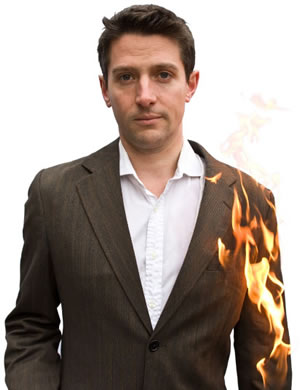 Last night saw the madcap Malcolm Hardee Awards Show give out its gongs for 2012, the awards which aim to "represent the true anarchic spirit of the Edinburgh Fringe".

Irish hip-hop comedy duo The Rubberbandits picked up the award for Comic Originality. The duo from Limerick conceal their identities by performing on stage and in interviews with plastic bags on their head.

Trevor Noah, the South African comedian who show, titled The Racist, was widely reviewed during the festival was named the Act Most Likely To Make A Million Quid. The judges said: "Trevor Noah is the South African comedian who, in January, appeared on The Tonight Show with Jay Leno in the US, whose Edinburgh Fringe show is presented by Eddie Izzard and who has sold more DVDs in Africa than any other stand-up comedian. World domination could well be next."

Meanwhile the Cunning Stunt title - which is handed out each year for the best publicity stunt promoting a Fringe show - went to Stuart Goldsmith (pictured). The stand-up comedian was awarded for "turning this year's ludicrous censorship of his and others' listings in the Fringe Programme (his show Prick was edited to become Pr!ck) to his advantage and then posting a very effective YouTube video in which he said he would donate £1,000 of his own money to the Waverley Care HIV charity, but would deduct £100 from this every time a critic used a pun on the word 'prick' in their review."
Below is Goldsmith's video...



The regularly bizarre awards ceremony was hosted by Miss Behave this year, and featured the Greatest Show on Legs performing their Naked Balloon Dance in Prince Harry masks, in honour of their 'naked rival'. A Russian Egg Roulette contest featured, among others, comedians Arthur Smith and Richard Herring (Smith won).

Details on the other nominees

The awards are given out in memory of Malcolm Hardee, "one of the most anarchic figures of his era". Hardee was a groundbreaking and hugely influential comedian and promoter who ran Greenwich's famous Up The Creek comedy club. He was found drowned in 2005, apparently in a drunken accident.

The Awards, which began in 2005 (or 2007 depending on how you count) will run until 2017... because that's the number of trophies which were made, and the organisers have said they're not making any more.

All monies that were donated by audience members on their way out of the Awards Show last night are going direct to Scotsman reviewer Kate Copstick's Mama Biashara charity.

Below is the video for Horse Outside, The Rubberbandits' video which has been watched more than 9 million times on YouTube: