This article is from our archive. It was published in 2012.
Comedy Announcements on Chiltern Railways
Published May 2012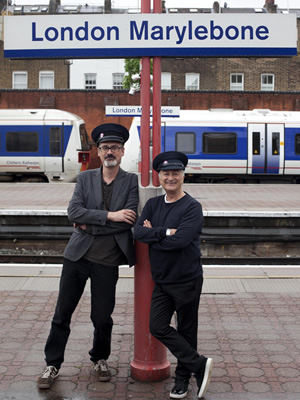 If you catch the train between London and Birmingham this month you might want to pay a bit more attention than normal to the platform and carriage announcements.

With seven in ten British workers saying that their daily commute is often one of the most stressful times of the day, Digital channel GOLD have teamed up with Chiltern Railways to inject some humour into journeys.

GOLD signed up Green Wing and Smack The Pony writer Richard Preddy and Blackadder star Tony Robinson to identify the key announcements which would benefit from a more comedic script, with the duo then working with station and train staff to put these new messages into action.

Richard Preddy comments: 'It was fascinating to meet the Chiltern staff, and a wonderful, if challenging, project to work on. We have all waited for a train or a bus into work as the rain pours down and bustled our way to a seat, and I think comedy can help to alleviate that stress. Everyone we met was so enthusiastic and the feedback so far has been fantastic. It's important to note that we aren't trying to turn everyone into a comedian - rather we are hoping to bring out a little more of the staff's personality and humour via their day to day announcements and help cheer up the commuters along the way."

Chad Collins, a General Manager at Chiltern Railways, adds: "We were keen to work with UKTV Gold on this project to brighten up Britain. Our Train Managers and announcers already infuse personality into their work, however working with comedy writers and actors has given them the inspiration and confidence to further enhance their announcements."

Steve North, GOLD's General Manager, concludes: 'We can all feel a bit groggy in the mornings sometimes, so anything we can do to help put a smile on the face of Britain's commuters has to be a good thing. We were delighted that the Chiltern team were so receptive to the project and we look forward to the customer feedback over the course of this week."

Below are some example announcements:


Sample station announcements

"Welcome to Marylebone. If you've travelled to London for a business meeting later, today's recommended meaningless phrases are 'blue sky thinking', 'moving forward', and 'low-hanging fruit'."

"Welcome to London Marylebone. Would any passengers hoping to sell their cow for a handful of magic beans please make their way to Jack and the Beanstalk immediately."

"If there is a Mr Mowgli on the station, Mr Mowgli you have the following message. 'Ooh, oobee doo. I wanna be like you. I wanna walk like you. Talk like you, too.' That was a message for Mr Mowgli, thank you."


Sample on-train announcements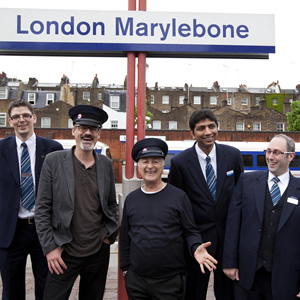 "I'd like to welcome passengers boarding this 7.33 from Birmingham Moor Street to London Marylebone. If you've just bumped into someone who you barely know, you now have one hour and thirty minutes of awkward small talk. Good luck!"

"For any passengers who've not visited London before, do please prepare yourselves for the capitals overwhelmingly calm and relaxing pace of life."

"Welcome on board this Chiltern train to London Marylebone. We are pleased to announce that not only we will be travelling at 100 miles an hour, but that we also have those new high-speed hand dryers!"

"We will shortly be passing through West Ruislip where we will be racing the Underground trains. Do please feel free to cheer for our driver."

"Our next station stop is Bicester, which is the second most wrongly pronounced station on this line, above Haddenham and Thame, but behind London Marlbon. Marlybon. Mary Lee Bone... You know what I mean."

"Will any passengers listening to noisy iPods please get a better taste in music. Thank you."

"Soon we will be passing Warwick Parkway's famous herd of alpacas. There are rumours that one of them is actually Gareth Gates in a costume. Can you spot him?"

"Next stop: Banbury, which is famous for its canals. It's a little known fact that Banbury actually has fewer canals than Venice!"

"You are advised that listening to loud music can annoy other passengers. Other ways to annoy them are to block the exits, push onto the train, or call everyone you meet 'Denise'."

"We are pleased to announce that the distance between Birmingham Moor Street and Solihull has not been adjusted."

"This train will be calling at Birmingham Moor St, Solihull, Warwick, Leamington Spa, Banbury, and London Marylebone - The train will NOT be calling at Rome, Mars, Albert Square or IgglePiggle's boat."

"If you are thinking of falling asleep on your neighbour's shoulder please warn them first if you're likely to dribble."

"While on the journey you may catch another passenger's eye. This might mean they are flirting with you. Or it might mean they're trying to work out if you're Dan's weird cousin they met at that Barbecue last year. Careful!"


Video

Here's some video footage...