Winners of Cofilmic Awards 2012 announced
Published October 2012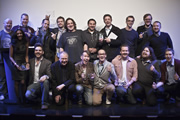 The winners of the Cofilmic Awards 2012 were announced at an event in Manchester last night.

The awards aim to recognise short comedy films, sketches and sitcoms created by up-and-coming British comedy writers, producers and directors.

The winners were as follows:


Best Sitcom Pilot / Comedy Central Choice

Animated comedy - Peter's Place - was named the best sitcom pilot, and was also the Comedy Central Industry Choice. The comedy is written, directed and performed by Nicholas Bowe. The episode, titled 'D.A.R.Y.L', can be watched below:



Ben & Jackie, directed by Jason Wingard, was the runner up in the Sitcom category.


Picturehouse Selection

The Picturehouse Selection is a category in the awards in which a short film is chosen by Picturehouse Cinemas, who are a partner to Cofilmic. The selected film was The Devil's Apricot, written and directed by Jonathan Brooks. It focuses on Damon (John Rutledge), a man who helps produce the satanic messages recorded by The Devil (Mark Davison).


Best Comedy Sketch

The Job, directed by Rob Reed and Aidan Synnott, was named the best sketch entry. This video isn't yet online. Synnott also won the Best Comedy Performance prize for his acting in this sketch.

The Limericks Of Wilfred Owen, directed by Slaughterhouse Live, was the runner-up in the sketch category.


Best Comedy Short Film

The Gay in the Attic, directed by Simon Connolly, was named the best short film. This film is currently not available to view online.

The Devil's Apricot (see Picturehouse Selection) was the runner-up in this category.


Audience Vote

Three additional submissions were picked by the audience:

CSO Manchester, directed by Reg Sanders and Patrick Gallagher. The mockumentary follows Vince and Duncan, two unloved and slightly useless Community Support Officers as they try and bring law and order to Manchester's estates.



The Misadventures of Randolph Tempest. Written by and starring Peter Slater, and directed by Martin Riley, the stylishly filmed pilot focuses on lovable, eccentric supermarket employee Randolph Tempest, who keeps a diary of the future:



Posh Off, directed by Daniel Harlos. This video is not currently online.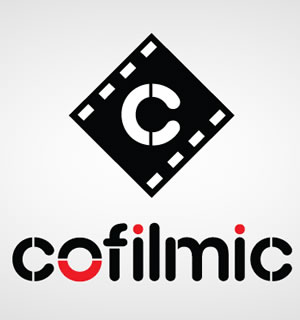 Over 100 films were entered into this year's contest, and the winners (pictured at the bottom of this article) were awarded their prizes by guests including actor John Henshaw (
Early Doors
), producer Charlie Hanson (
Extras
) and Comedy Central executive Sarah Farrell.
The prize packages include one-to-one sessions with BBC Comedy Development Producer Jo Blake, feedback from Leslee Udwin (producer of
East Is East
), a feature spot on the home page of the Picturehouse Cinemas website, and a face to face meeting with the development team at
Comedy Central
.
The award judges were made up of a leading panel of industry professionals including Charlie Hanson, Jo Blake, Sarah Farrell and BBC Films' Beth Pattinson.
Cofilmic was founded in 2011 by Janet Harrison who, having made a short film herself, found that the UK lacked a dedicated comedy TV and film festival, and that there appeared to be a shortage of practical support for those looking to enter the professional industry.
Harrison says: "We were once again taken aback at the number and quality of the films submitted. The prizes on offer will ensure that the creators get practical advice in order to take their ideas forward, which we've seen happen over the last 12 months with those that took part last year. Our second year has been a real success and we're already putting things in place for next year, not least our initiative with Creative England, to continue to bring opportunities to new comedy talent."
Cofilmic is partnering with Creative England to launch a Comedy Lab feature film development initiative, offering workshops to talent with previous writing experience with an opportunity to secure £5,000 to develop the script further.
For more details on Cofilmic visit
www.cofilmic.co.uk