Win 'Michael McIntyre SHOWTIME!' on Blu-ray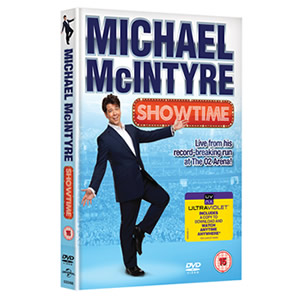 He's back! The maestro of the big arena stage returns with his funniest show yet. Three years in the making, the UK's No 1 comedian returns with a brand new, sell out, live stand-up show this year - Michael McIntyre's SHOWTIME!, coming to DVD and Blu-Ray on 12th November. Order here

Following his hilarious previous 2 DVD releases, Showtime! sees Michael at his funniest and best! So crack open the man-drawer, take a front row seat in the comfort of your own home and watch the comedy master at work; from family life, to modern travails and all the things you never knew were so absurd, Showtime! is a must-have addition to your comedy DVD collection and the perfect gift this Christmas.

Enter the competition below for a chance to win a copy of Michael McIntyre's Showtime! on Blu-ray.

Firstly though, here's a classic McIntyre clip from one of his previous stand-up DVDs:


This competition has now closed.
© 2012 Universal Studios. All Rights Reserved. This competition closes 23:59 on 24th November 2012. Only one entry per household, UK residents only. Winners will be contacted by email after the competition closes. The decision of the judges is final.
Note: We have software installed to detect multiple entries from the same person. Your IP: 54.147.10.4