The British Comedy Society is dedicated to preserving and fostering the tradition of British comedy. We organise blue plaques, awards and charitable fundraising events in honour of the greatest successes of British comedy.
Subscribe to our newsletter
Richard Briers blue plaque unveiled
The British Comedy Society has unveiled its 45th Blue Plaque, dedicated to late actor Richard Briers CBE.
The plaque was unveiled at Briers's former childhood home of Pepys Court on Worple Road in Raynes Park, south west London, on Sunday 1st November 2015 by his widow, Anne, and daughters Lucy and Katie.
The unveiling was attended by colleagues Sir Michael Gambon (The Other One), Peter Egan (Ever Decreasing Circles) and Susan Hampshire (Monarch Of The Glen).
Briers lived at flat 2 in the small art deco block with his parents from 1940 to 1947. With the local Rialto Cinema backing on to Pepys Court's rear garden, the location proved perfect for the young Richard to become immersed in acting after finding a rear door he could sneak into the cinema by, therefore avoiding paying to see the films of the era.
Richard's actor daughter Lucy said of the location:
We felt it would be interesting for people to understand a little more about my father's roots, and how far he came through his hard work and unique talent. Dad would have thought it was great, and the young boy he was when he lived at Pepys Court would have thought it was extraordinary.
Gareth Hughes, British Comedy Society Chairman, commented yesterday:
It is only fitting that a true great of British stage and screen be honoured with a plaque forever marking his former home. Some of Richard Briers's most important formative years were spent here at Pepys Court and we are delighted to recognise his contribution to British comedy with today's unveiling.
Funds raised at the unveiling and a reception afterward will be donated to the Actors' Benevolent Fund, of which Richard was a keen supporter and his The Good Life co-star Dame Penelope Keith is President.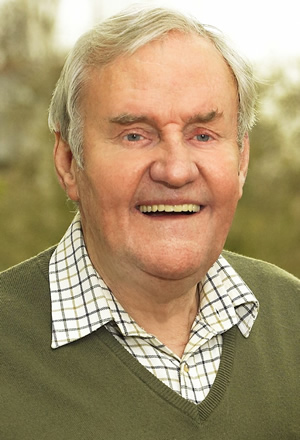 Blue Plaque: Richard Briers CBE
The British Comedy Society is delighted to confirm details of its next blue plaque, in honour of the late actor Richard Briers CBE.
The plaque will be unveiled at 12 noon on Sunday 1st November 2015 at Richard Briers's childhood home in Raynes Park, London, SW20 8QT.
Dedication of the plaque will be followed by a ticketed drinks reception and two-course buffet lunch at the nearby Royal Oak (KT3 4RD), and - subject to availability - we hope to be joined by guests including Richard's widow, Ann; daughters Lucy and Katie; and colleagues including Dame Penelope Keith, Sir Kenneth Branagh, Sir Michael Gambon, Felicity Kendall, Susan Hampshire, Peter Egan and Penelope Wilton.
Funds from the event, which will also include an auction of memorabilia, will be donated to Richard's favourite charity, the Actors' Benevolent Fund, of which Dame Penelope is President.
Tickets cost £45 (£40 for BCS members) and are available upon enquiry to tickets@britishcomedysociety.com.
A bus service can be provided between the two locations if demand is sufficient, at a cost of £7 per person. Please indicate if vegetarian meal options are required.
Tickets are strictly limited for this very special one-time event, so don't hesitate before booking!
Laurence Marks & Maurice Gran: Living Legends
Laurence Marks and Maurice Gran, screenwriters of Birds Of A Feather, have been named the British Comedy Society's latest Living Legends of Comedy.
At a star-studded event held in central London on Sunday afternoon, the writing duo - this year celebrating 35 years as professionals within the industry - the duo received their awards from Birds stars Linda Robson and Lesley Joseph.
Raising money for the charities Orbis and Crisis, the event saw colleagues past and present mingling with fans to celebrate Marks & Gran's remarkable string of comedy hits, and share memories from their near 40 years writing broadcast comedy.
Aside from continuing sitcom hit Birds Of A Feather, the pair are responsible for the hit Rik Mayall sitcom The New Statesman, Nicholas Lyndhurst's Goodnight Sweetheart, the hit comedy dramas Shine On Harvey Moon and Love Hurts, plus Holding The Fort, Relative Strangers, Unfinished Business, Get Back, So You Think You've Got Troubles, and many more.
Pending the online auction of a number of signed DVD box sets, donations will be made to Laurence and Maurice's chosen charities by the end of the month.
Heritage Foundation blue plaque theft
The British Comedy Society would like to express our dismay at the past week's news that four of The Heritage Foundation's blue plaques have been stolen from the soon to be demolished Teddington Studios building. Blue plaques are a tribute and a mark of respect and affection for our history, to be shared with all rather than kept in private collections. Having had our own plaque for Sid James stolen from his former home in 1995, we understand the sense of disappointment and loss that those at The Heritage Foundation must be feeling at this senseless crime, and extend our sympathies to them.
Gareth Hughes, BCS Chairman, commented: "I am sorry for everyone at The Heritage Foundation for this mindless act. We at BCS are well aware of all the hard work and effort that goes in, on a voluntary basis, to the design and making of the plaques and to the events that surround the unveilings. My thoughts also go out to the families of some of our great comedians and comic actors honoured with these THF plaques."
Our directors would like to echo the sentiments of THF President Vicki Michelle and call for the stolen plaques to be returned.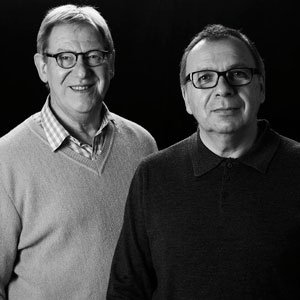 Laurence Marks & Maurice Gran: Living Legends
We are very happy to announce that our next event will be held in honour of scriptwriters Laurence Marks and Maurice Gran, who will receive our Living Legend Award.
Marks and Gran celebrate 35 years this year as professional TV comedy writers, with an impressive and varied array of credits to their name. As well as writing The New Statesman for Rik Mayall and Goodnight Sweetheart for Nicholas Lyndhurst, the duo made stars of Pauline Quirke and Linda Robson in Birds Of A Feather - about to record its twelfth series - and helped bring both Kate Winslet and Ray Winstone to the nation's attention in Get Back.
If that weren't enough, they practically invented the 'comedy drama' genre with post-war period comedy Shine On Harvey Moon, wrote for Frankie Howerd on the radio, and in recent years have branched out to musical theatre with the smash hit jukebox show Dreamboats & Petticoats.
Laurence and Maurice - along with a selection of special celebrity guests from their career, past and present - will be joining us at 4pm on Sunday 13th September, at London's Leicester Square Theatre, to talk about their work and share tales from the past four decades atop the British comedy tree.
Tickets are now available from the Leicester Square Theatre box office. Society members should contact us for a discount before purchasing.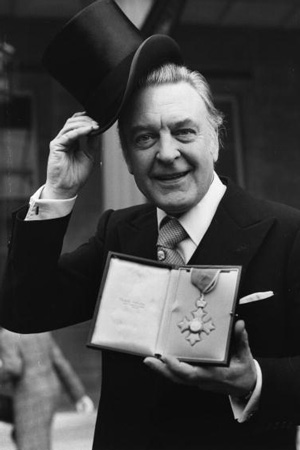 A Celebration of the Life of Sir Donald Sinden CBE
On Tuesday 19th May our chairman Gareth Hughes, along with directors Jane Wharam, Aaron Brown and Georgy Jamieson were honoured to represent the British Comedy Society at the Wyndhams Theatre in London's West End at 'A Celebration of The Life Sir Donald Sinden CBE'.
The event was instigated by Sir Donald's son, actor and director Marc Sinden, and included reminiscences from a cast of prodigious names from his TV, film and stage work as well as music pertinent to Sir Donald's life and career.
Marc Sinden himself started proceedings with some very funny and touching memories of his father, particularly working with him on their last project together, the documentary series 'Great West End Theatres'.
Then Dame Penelope Keith, Andrew Hawkins, Selina Cadell, Alex Jennings, Dame Janet Suzman, Clive Francis, John Gale, Ray Cooney and Lord Julian Fellows all spoke about their memories of the great man.
There were also a few famous names in the audience including, Robert Lindsay, Shirley Eaton, Gyles Brandreth and Geoffrey Palmer.
A particular highlight was Selina Cadell, who spoke of the great friendship between the Sinden and Cadell families. She mimicked Sir Donald beautifully and told us how, as a small child, she was both terrified and in awe of this great booming man. Even away from the stage and at home amongst family and friends she said he still talked constantly in exaggerated vowel sounds. He also made everyone play charades at Christmas and for 21 years persisted in the joke of calling twins Selina and Patrick Cadell by each other's names.
Playwright Ray Cooney recalled a story, which showed Sir Donald's mischievous sense of humour. It concerned Sir Michael Cordon, when he was directing Sir Donald in the play 'There's A Girl In My Soup'. The play was a huge success in the West End running from 1966 to 1973 and it was the first time the catchphrase, "My God, but you're lovely" was heard. In one scene Sir Donald had to climb through a window onto the set and Michael Cordon had warned him to be careful so he didn't trip and hit his head. All through rehearsals he heeded the warning and played the scene with caution. On the opening night he fell through the window, hit his head and continued into an elaborate pratfall, which earned him a hearty round of applause. Sir Michael was understandably worried, but it turned out Sir Donald had been practicing this piece of business for 5 days prior to the first show.
It was a wonderful occasion in a truly glorious theatre and very befitting to the memory of a great actor, father and friend to many.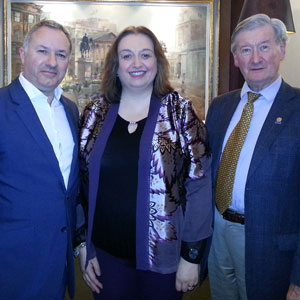 Changes at the BCS
The British Comedy Society is delighted to announce that we have appointed a new director to our management team, PR specialist and comedy fan Georgy Jamieson (pictured, with our founders, Chairman Gareth Hughes and Treasurer John Gatenby).
Georgy's appointment follows the resignation of James Hogg in September. A writer of biographies including those of Kenny Everett and Ernie Wise, James moves on to focus on areas outside of comedy and we wish him all the best in the future.
The Society's other directors are Chariman and co-founder Gareth Hughes; Treasurer and co-founder John Gatenby; David Fitzgerald; actress Jenny Hanley; Jane Wharam; and British Comedy Guide co-owner Aaron Brown.
Event update
Due to a combination of circumstances beyond our control, it has been decided with great regret that the our blue plaque event on Sunday 13th July in honour of Sir Donald Sinden will not take place.
We apologise for any inconvenience caused and will be refunding all ticket purchases as soon as possible.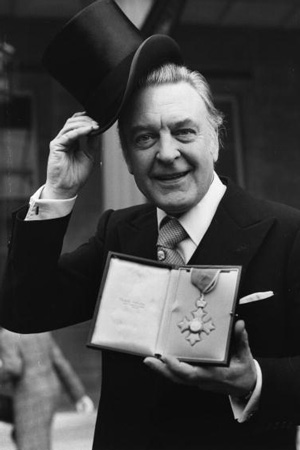 Sir Donald Sinden
The British Comedy Society is excited to formally announce that it will be dedicating a blue plaque at its hall of fame to the prolific and highly respected actor Sir Donald Sinden in July.
The plaque will be unveiled in the society's Hall of Fame at the prestigious Pinewood Studios on Sunday 13th July, in aid of The Royal Theatrical Fund.
Born in 1923, Sir Donald's impressive career spans film, stage, television and radio, across all genres. Active in the theatre from the early 1940s and in film from 1948, he became a staple of the Rank Organisation, based at Pinewood Studios, through the 1950s and 1960s, starring in more than 20 films for the company.
Alongside his first love of live theatre - where Sinden became a noted farceur - he starred in a number of television series. Throughout the 1980s Sir Donald starred opposite Windsor Davies in Never The Twain, and was much loved as stiff-upper-lipped butler Robert in LWT sitcom Two's Company during the latter half of the 1970s.
Sir Donald Sinden hopes to be in attendance for the unveiling of this plaque, featuring remarks from a host of celebrities and to be followed by a sparkling afternoon tea, a film of the great man's life and a charity auction. The events are due to begin at 2pm.
Tickets cost £40 for members of the British Comedy Society, and £45 for guests. To book or for further details, contact John Gatenby: britishcomedysociety@yahoo.co.uk
Annual membership of the British Comedy Society, with benefits including ticket discounts to all our events throughout the year, costs just £18.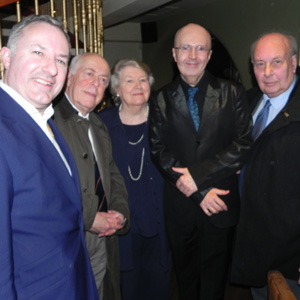 Our latest Living Legend: Patricia Routledge
The BCS was delighted to honour the wonderful Patricia Routledge on Sunday 19th January 2014 by presenting her with its Living Legend Award.
After discussing her incredible career in musical theatre with Edward Seckerson in front of a packed audience, BCS Chairman Gareth Hughes (pictured with Patricia; Keeping Up Appearances co-star Clive Swift; Seckerson; and producer/director Harold Snoad) joined Patricia on stage at the Charing Cross Theatre to pay tribute to her work in comedy and particularly for her iconic role in Keeping Up Appearances in the 1990s.
Gareth Hughes said: "Patricia has brought joy to millions with her work in comedy and particularly as Hyacinth Bucket, and is now known the world over for this star performance - she well deserves this Award alongside the other Living Legends, June Whitfield, Ken Dodd and Barry Cryer."
Keeping Up Appearances co-star Clive Swift presented Patricia with the Award on-stage. During a drinks reception after the show, Keeping Up Appearances producer Harold Snoad, co-star Josephine Tewson, Joanna Lumley and Michael Pennington, founder of the English Shakespeare company, also all sang the praises of this great lady.
Proceeds from the day are being donated to Patricia's chosen beneficiary, Variety, the Children's Charity.
Terrence Higgins Trust receives Kenny Everett funds
Earlier this month, British Comedy Society Chairman Gareth Hughes (pictured, centre) presented the Terrence Higgins Trust with £2,100, raised from our recent intimate fundraising event in memory of entertainer and broadcaster Kenny Everett.
The Trust say: "£200 is the average Hardship Fund grant given to help someone living with HIV facing severe poverty and hardship. £1,000 covers the cost of one of our six week groupwork courses for 8 people living with HIV. Just £10 pays for an HIV testing kit. With this donation we can offer help to people with HIV, in their greatest time of need. We thank everyone at the British Comedy Society for their generosity and kindness."
Gareth Hughes said: "We are delighted that once again we can benefit an extremely worthwhile charitable cause through the events which we hold and I am sure Kenny would have been very happy with our contribution to THT today. It is so important that our paying guests and members know where their contributions go and to see how they assist others less fortunate."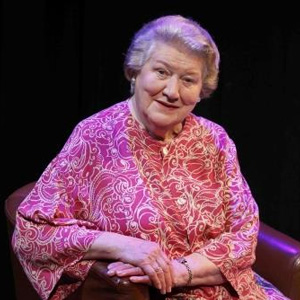 Living Legend: Patricia Routledge
The British Comedy Society is delighted to announce that we will be presenting a Living Legend award to actress Patricia Routledge, on Sunday 19th January 2014 at the Charing Cross Theatre (WC2N 6NL).
The award will be presented during Edward Seckerson's interview with Patricia as part of his Singular Sensations series at the theatre. Edward, the former presenter of Radio 3's long-running series, Stage and Screen, will be showing clips from Patricia's work in musical theatre and will chat to her about her career as an actress and singer. And what a career! A Tony and Olivier award winner, Patricia has trodden the boards from the RSC to Broadway and starred in TV, radio and film, creating unforgettable characters such as Hetty Wainthrop, Kitty and, of course, Hyacinth Bucket!
During the afternoon, BCS members and their guests will enjoy carefully-selected seats for this fascinating 'encounter', which will be followed by a private reception with wine and canapés in the piano bar, where guests can mingle with Patricia, Edward and other celebrity guests, as well as their BCS friends.
Tickets for the 2:30pm event are priced at £40 for BCS members, and £45 for guests, all in aid of Patricia's chosen charity, Variety, the Children's Charity. To book or for further details, contact John Gatenby: britishcomedysociety@yahoo.co.uk
Annual membership of the British Comedy Society, with benefits including ticket discounts to all our events throughout the year, costs just £18.
New website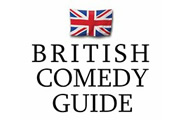 The British Comedy Society would like to welcome all to our new website, courtesy of The British Comedy Guide - aka Comedy.co.uk.
We remain separate organisations but are excited to now be working together in our shared love of British comedy across the decades, celebrating its greatest successes and most influential figures; documenting, promoting and preserving British comedy in all of its forms.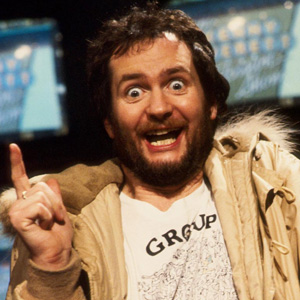 Kenny Everett
We are thrilled to confirm that on Saturday 14th September 2013, we unveiled our latest blue plaque, dedicated to the broadcasting legend, radio innovator and comic entertainer Kenny Everett, outside his former home in South Kensington.
Kenny was loved by successive generations of youths and adults alike for his anarchic humour and mold-breaking radio broadcasts, as one of the DJs aboard legendary pirate station Radio London; one of the first names on Radio 1; an original member of the team at Capital Radio; and later at Capital Gold.
The blue plaque was unveiled by Kenny's "soul-mate" and co-star from The Kenny Everett Television Show, Cleo Rocos, with Barry Cryer, Mike Batt, Paul Gambaccini and others also in attendance.
The unveiling was followed by the launch of a brand new biography of Everett by James Hogg and Robert Sellers, Hello, Darlings!, and a lunch reception, talks and charity auction in aid of the Terrence Higgins Trust.
Here is a BBC Radio 2 and 4 news report of the unveiling, by Paul Rowley: