Advertising on The British Comedy Guide
We are Britain's most visited comedy related website. With more than 500,000 unique visitors every month, The British Comedy Guide is the ideal place to promote your product, gig, event or service.
But, wait, there's more! We're part of...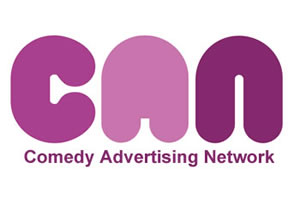 The Comedy Advertising Network is an association of independent comedy websites who reach every part of the online comedy world. Together, CAN combines the clout of a corporate with the personal touch and targeting of a fansite. Whether you're marketing a big-name comic or a new act, a comedy venue, a festival, DVD or a TV series, the Comedy Advertising Network can help you reach your target audience effectively, and at competitive rates.
To find out more, and to enquire about advertising on BCG or across the entire CAN network: